General information
First science city in Russia
The history of Obninsk began in 1945 with a decision by the Foundation of Scientific Research Institution to create Laboratory "V", which later became known as Institute for Physics and Power Engineering. As a result of Laboratory "V", the first nuclear power station in the world was built in 1954. The city was built around the station in order to support it. The official date of city's foundation is June 24, 1956.
Obninsk is located on the bank of the picturesque Protva River, 80km away from the Region's capital, Kaluga, and 100km away from Moscow at the intersection of Kievskoe and Varshavskoe highways. In addition to rail, there are three international airports in easy driving distance to Obninsk: Vnukovo (70km), Domodedovo (100km), and Sheremetievo (130km) and one cargo airfield just around the corner, Ermolino (15km).
The city covers approximately 4,300 hectares with a population of 105,600 people.
Due to its advantageous geographic location along with major transportation routes, coupled with its population, scientists, educational system, and developed infrastructure make Obninsk ideal and attractive for investors and new business.
Science
There are ten federal scientific-research and design institutes, three of them are part of the State Research Center
Unlike in the past, today the Obninsk scientific-research companies supply competitive and reliable goods and services to the world market. There are ten federal scientific-research and design institutes, three of them are part of the State Research Center located right here in Obninsk:
• State Scientific Center of the Russian Federation - Institute for Physics and Power Engineering (SSC RF IPPE);
• State Scientific Center of the Russian Federation - Obninsk Research and Production Enterprise "Technologiya";
• The Obninsk Affiliate of the State Scientific Center of the Russian Federation - Institute of Physics and Chemistry (SSC RF IPC);
• Medical Radiology Research Center of the Ministry of Health and Social Development;
• State Institute "Research and Production Association "Typhoon";
• Research Institute of Hydrometeorological Information – World Data Center Russian Research Institute of Agricultural Meteorology;
• Russian Institute of Agricultural Radiology and Agroecology of the Russian Academy of Agricultural Sciences.
Obninsk companies are equipped with unique equipment and services with their experimental and test stations, including nuclear, chemical, microbiological and instrument facilities.
Small and medium size innovation business
Besides the major corporations, Obninsk also has more than 600 small and medium size innovative businesses as a part of its portfolio.
To name just a few of innovation business infrastructure:
- Kaluga region Agency for Innovation development;
- Center for technology transfer;
- Fund for small business support
- Obninsk Center for Science and technologies
- Obninsk business incubator
- OCST Business Incubator
- Students' business incubator at the State Technical University of Nuclear Power Engineering
Future Perspectives:
- The creation of a 60-hectar industrial site with 6000 posytions of employments;
- The creation of Innovation Development Zone with total investment EUR 22.5million;
- The Creation of Obninsk Industrial park for the development of medicalpharmaceutical cluster.
Education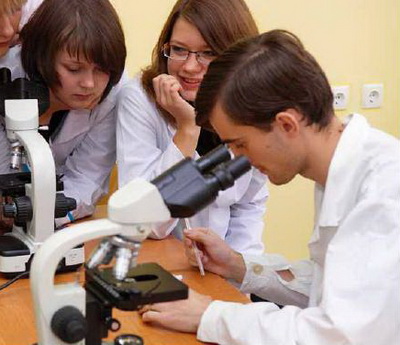 There are nine institutes of higher education, polytechnic college, medical college and three vocational colleges.

Obninsk has a distinct advantage over other cities in that it is a "science city" with highly trained and well educated workforce due to its strong education and past history/industries in nuclear engineering.
The largest university specializes in nuclear engineering – StateTechnical University of Nuclear Power Engineering with more than 13,000 undergraduate and graduate students and over 760 professors, including 90 with doctorates of science and 250 doctorates of philosophy. Degrees from these universities range from nuclear technology, nuclear and power engineering, informational technology, material science, radiation medicine, ecology, economy, innovation and business management, jurisprudence. In 2008 Medical institute as a part of State Technical University of Nuclear Power Engineering (The Obninsk Affiliate of the Moscow State Engineering-Physical Institute) opened its doors for the first students.
Besides the institutes of higher education, there are polytechnic college, medical college and three vocational colleges.
The Biotech City
Formation of medic-biological and pharmaceutical cluster

Kaluga region is in a process of active modernization of its economy nowadays. This strengthens competitiveness of the region and improves people's quality of life. Obninsk is considered one of the main innovation cities in Kaluga region. It's got great opportunities for the development of high-tech industry in biotechnology and medicine.
Existing today infrastructural elements provide a continuous process: studying – research practice - development - implementation of practically significant results.
Obninsk has got:
• Federal hi-tech medical-radiology center Medical Radiological Research Center of the Ministry of Health and Social Development of RF;
• Medical University Department of Obninsk Technical University of Nuclear Power Engineering;
• Clinical hospital № 8;
• Bio-technopark project implementation;
• pharmaceutical plant of «Hemofarm» concern;
• plant "Gelenpol" construction (for blood substitutes manufacturing);
• small innovative medical-pharmaceutical enterprises ("Medbiopharm", "Mirpharm", "Bion", "Bioflavon" and so on) that develop new bio and pharmaceutical drugs.
Infrastructure for innovative business
Obninsk Industrial Park

To develop bio-pharmaceutical cluster 125 hectares site within Obninsk has been provided where medium and big scale medicine and pharmaceutical enterprises are supposed to be built. Two companies already have signed Investment Agreements:
Nearmedic. Russian pharmaceutical, biotechnology and medical company producing original antiviral drug Kagocel® and innovative collagenic bioplastic material Collost™ broadly used in different medical specialties: general surgery, urology, gynecology, traumatology, stomatology, otolaryngology, plastic surgery, neurosurgery, cosmetology and aesthetic medicine. Total investment is more than EUR 25 million.
Galenika. The first pharmaceutical plant in Serbia, founded in 1945, is one of the pharmaceutical leaders in the region producing up to 90% of all medicines for Serbian market. Galenika's product range includes over 250 products of various dosage forms, covering almost all pharmacological groups of drugs, OTC products, dental products, as well as veterinary products. Total investment is more than EUR 25 million.
Kaluga region Agency for innovation development

Kaluga region Agency for innovation development (KRAFID) has been established by Kaluga region Government for supporting development process. Despite the fact that science centers have got a high potential their elaborations often stay at a theory stage that's why KRAFID's aim is empowering perspective technology from the early beginning up to the market product outcome. KRAFID selects the most advanced technologies and through commercialization brings a life to new science elaborations. Business incubators, joint-use facilities, venture capital funds and foundation seed grants are supposed to maintain this process.
Business incubators
There are three business incubators in the city.
Obninsk business incubator was established in 2001. It has got 1834 square meters lease area for offices and production. There are 8 innovative enterprises and 6 more are going to settle down within 2011. These 6 companies' creators are young professionals who won the regional competition of innovative scientific and technical projects among young professionals.
Student business incubator was established by academic council of Obninsk Technical University of Nuclear Power Engineering in March 2007. The main purpose was a creation of facilities for student business projects.
Business incubator of Obninsk Center for Science and Technologies (BI OSCT) was established in December 2007. Its founders were Ministry of Kaluga region Economic Development, Obninsk City Administration and Obninsk Center for Science and Technologies. Total lease area is 1049.9 square meters.
There are 14 companies at BI OSCT. 12 of them are small innovative companies and 2 companies for innovation infrastructure.
Average annual revenue of business incubators' residents is more than EUR 12.5 million.
Obninsk Technopark

Obninsk project of high technology technopark's generation bases on "Creation of high technology technoparks in Russian Federation" national program. There are 2 sites with 60 hectares in total intended for Obninsk Technopark.
Site №1 is a universal site for the implementation of innovative projects in such areas as new material creation, nanotechnology, IT and high-accuracy instrumentation equipment.
Site №2 is located in the South. It's going to get together companies major in pharmaceutics and biotechnology. Technopark "Obninsk" includes an experimental public institution Medical Radiological Research Center that will enable to use the research base and the unique human capacity of the Center for implementation of joint projects.
Creation of engineering and innovation infrastructure for technopark will allow creating a federal high-tech center of medical radiology at Obninsk with support of The State Atomic Energy Corporation "Rosatom" and The Federal Medical-Biological Agency.
Obninsk Technopark creation will ensure by 2012:
- attraction of more than EUR 150 million into R&D and manufacturing;
- generation about 3500 positions of employment;
- growth of annual high-tech industry output up to EUR 675 million.
Letters of intent about future placing within Technopark were signed between Directorate of Obninsk Technopark and 41 companies to date. By 2016 there will be 75 companies in Technopark with total investment about EUR 206.8 million.
Innovation Development Zone (IDZ) Krasnih zor str.

The project implementation of 18 hectares IDZ creation has been started from 2007. The aim of this project is supporting small innovative companies that have passed business incubator's stage already but are not able to build big production and office buildings due to lack of finance. So they can tenant a municipal land with all ready infrastructures for building small constructions within IDZ. After commissioning they have a right to redeem this land.
Total investment from state and municipal budgets amounted about EUR 2.48 million in 2007-2010.
Importance of the project:
- creating a real production of innovative products (14 new productions with total investment about EUR 22.5 million in perspective);
- production capacity (30 small innovative companies have applied already);
- growth of tax base and creation of about 1000 positions of employment.
Obninsk is the city of favourable living conditions
Investment into the future

Speaking about Obninsk they recall above all that Obninsk is a city of the first nuclear heating plant in the world or that Oninsk has been given the status of 1st Science city in Russian Federation. Its habitants and guests always note a special charm of city. Located not far from Moscow Obninsk is one of the most comfortable place for dwelling within Kaluga region.
The new general plan's revision is near to be completed. Obninsk borders are going to be expanded and this expansion has to support further city economic development by increasing enterprises quantity and as a result increasing the taxable basis and positions of employment. New territory will provide also raising the housebuilding sector. New ideas, products and technologies' implementation will improve Obninsk habitants' lives significantly.
Green city. The city developed along the scenic river Protva and network forested ravines and was initially focused on the maximum preservation of existing forests.
In summer 2010 habitants and enterprises' staff created more than 500 flower-beds and bedded 175 thousands of seedlings.
Architecture of urban neighborhoods of Obninsk differs modernity and diversity. Apartment buildings and private residential sector are provided with district heating, water supply, sewerage and natural gas. Network of roads and sidewalks is well developed in the city.
Obninsk is a very compact city in terms of construction. In every microdistrict there are shops to sell food and manufactured goods and horticultural products. Neighborhood units provided with all necessary domestic services.